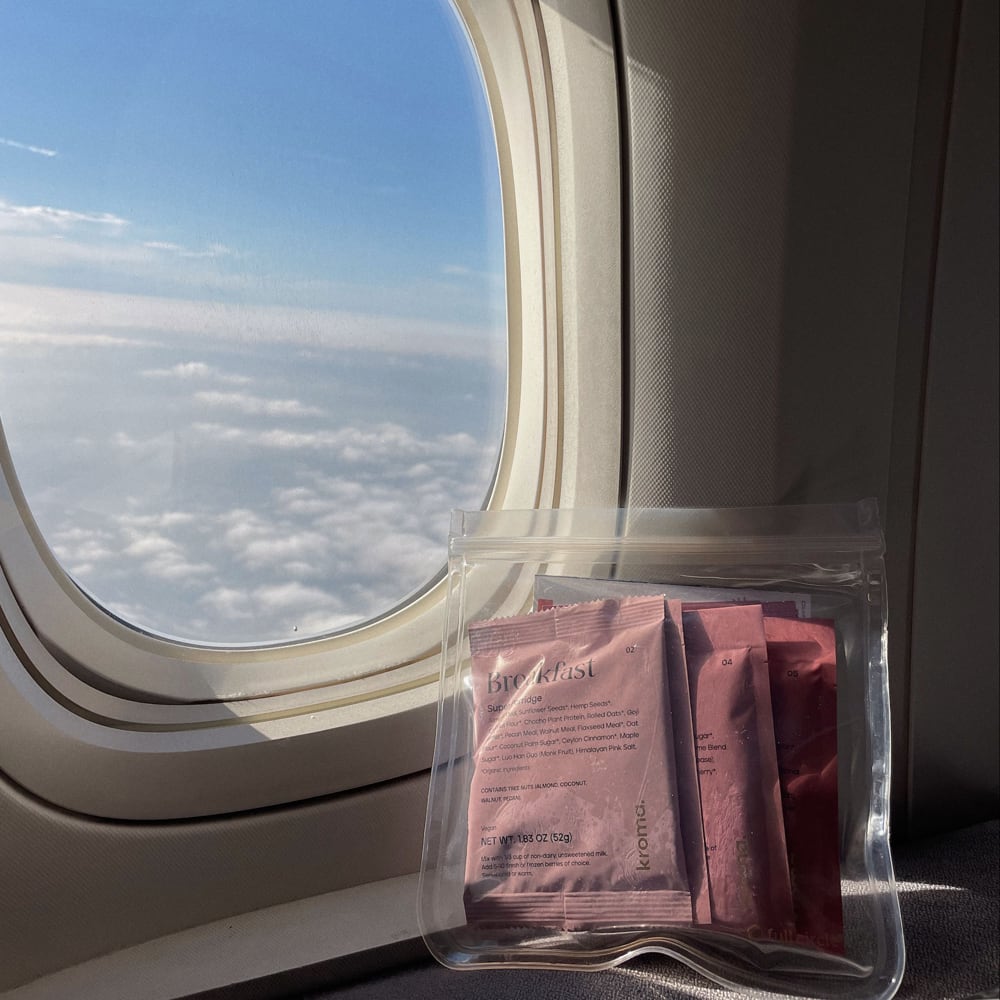 Take Health with You
For the busy parent or professional, the Kroma Everything But Dinner travel pack keeps you set throughout the day and (perhaps) most importantly, every "in case of" in-between. Take on the plane, to the office or even the park with your kids. It's as delicious as it is nourishing – as convenient as it is craveable. Let's dive in.
Six sachets take you from day to day, hour to hour, or minute to minute. You make the rules here, we'll just hit you with the highlights.
Ultimate Vitality Latte
Super Porridge
Cranberry Hydration Elixir
Blueberry Acai Plant-Based Smoothie
Veggie Broth with Plant Protein
Supergreens Elixir
Simple, Convenient, Delicious, and Nutritious
Refer to nutritional facts for ingredients.
California Residents Prop 65
✝ Not a vegan product
Ultimate Vitality Latte - Sachet
1 servings per container
Serving Size: 1 Sachet (18g)
Amount per serving
% Daily Value
Ingredients:
Coconut Milk*, Turmeric Extract*, Ginger Extract*, Reishi Mushroom*, Maple Sugar*, Black Pepper*, Ceylon Cinnamon*, Luo Han Guo (Monk Fruit), Nutmeg*, Cardamom*
*Organic Ingredients
Common Allergens:
Tree Nuts (Coconut)
1 servings per container
Serving Size: 1 Sachet (52g)
Amount per serving
% Daily Value
Ingredients:
Almond Meal, Sunflower Seeds*, Hemp Seeds*, Coconut Flour*, Chocho Plant Protein, Rolled Oats*, Goji Berries*, Pecan Meal, Walnut Meal, Flaxseed Meal*, Oat Flour, Coconut Palm Sugar*, Ceylon Cinnamon*, Maple Sugar*, Luo Han Guo (Monk Fruit), Himalayan Pink Salt
*Organic Ingredients
Common Allergens:
Tree Nuts (Almond, Coconut, Pecan, Walnut)
Cranberry Hydration Elixir - Sachet
1 servings per container
Serving Size: 1 Sachet (6g)
Amount per serving
% Daily Value
Magnesium
(as Aquamin Mg® AG) 40mg
10%
Supplement Blends:
Hydration Blend 5.3g
Coconut Water, Cranberry*, Ginger Extract*, Cayenne Pepper*
Ingredients:
Citric Acid, Himalayan Pink Salt, Stevia Leaf Extract (Rebaudioside M), Thiamine Hydrochloride, Riboflavin
*Organic Ingredients
Common Allergens:
Tree Nuts (Coconut)
Blueberry Acai Smoothie - Sachet
1 servings per container
Serving Size: 1 Sachet (27g)
Amount per serving
% Daily Value
Ingredients:
Chocho Plant Protein, Blueberry, Maple Sugar*, Luo Han Guo (Monk Fruit), Digeseb® Enzyme Blend (Amylase, Cellulase, Lactase, Lipase, Protease), Goji, Acerola, Acai*, Camu Camu*, Tart Cherry*
*Organic Ingredients
Veggie Broth with Plant Protein - Sachet
1 servings per container
Serving Size: 1 Sachet (18g)
Amount per serving
% Daily Value
Ingredients:
Vegetable Broth {[Base (Deactivated Nutritional Yeast, Red Miso*, Mirepoix (Carrot, Celery, Onion, Garlic), Tapioca Starch*)], [Flavour Blend (Pink Himalayan Salt, Brown Rice Protein*, Turmeric*, Chives, Black Pepper, Aquamin®, Tasmanian Kelp*)], [Veggie Blend (Garlic, Pumpkin*, Kale*, Spinach*, Sweet Potato, Carrot*, Broccoli, Onion)]}, Chocho Plant Protein, Turmeric*
*Organic Ingredients
Common Allergens:
Soy (Miso)
Supergreens Elixir - Sachet
1 servings per container
Serving Size: 1 Sachet (11g)
Amount per serving
% Daily Value
Vitamin A
(as Beta Carotene, Retinyl Palmitate, Betatene®) 1000mcg
111%
Vitamin C
(as Ascorbic Acid) 300mg
333%
Vitamin D3
(as Cholecalciferol) (VegD3®) 20 (800IU)mcg
100%
Vitamin E
(as d-Alpha Tocopheryl Succinate) 14mg
93%
Vitamin K
(as Phytonadione) 100mcg
83%
Thiamin
(as Thiamine Hydrochloride) 4mg
333%
Niacin NE
(as Niacinamide) 20mg
125%
Vitamin B6
(as Phridoxine Hydrochloride) 8mg
471%
Folate
(as 5-MTHF) 1000mcg DFE
250%
Vitamin B12
(as Methylcobalamin) 100mcg
4167%
Pantothenic acid
(as d-Calcium Pantothenate) 10mg
200%
Iodine
(as Kelp Stipe & Fronds*) 150mcg
100%
Magnesium
(as Magnesium Citrate*, Aquamin®F*) 100mg
24%
Zinc
(as Zinc Citrate) 16.5mg
150%
Selenium
(as L-Selenomethionine) 80mcg
145%
Copper
(as Copper Gluconate) 0.6mg
67%
Manganese
(as Manganese Gluconate) 2.3mg
100%
Chromium
(as Chromium Picolinate) 40mcg
114%
Supplement Blends:
Superfoods – Veggies & Fruit Blend 4.2g
Spirulina*, Apple Fiber*, Apple Pectin Extract, Bitter Orange Extract, Plantago Arenaria Husk*, Broccoli Stem*, Chlorella*, Carrot Root*, Cocoa Seeds Extract*, Beet Root Juice*, Kale Leaf*, Spinach Leaf*, Ginger Root*, Cauliflower Whole Plant*, Artichoke Leaf Extract*, Bilberry Extract, European Elder Berry Extract*, Black Currant Fruit Extract, Dog Rose Fruit Extract, Acaí Fruit Extract*, Grape Seed Extract, Hawthorn Fruit Extract, Cranberry Concentrate*, Bacopa Leaves Extract*
Nutrient Dense Antioxidants, Minerals & Herbs 1.5g
Flax Seed*, Red Algae Lithothamnion sp. Extract (Aquamin® F)*, Alpha Lipoic Acid, Echinacea Purpurea Stem Leaf and Flower*, Green Tea Leaf Extract*, Japanese Knotweed Root Extract, Sage Leaf, Milk Thistle Seed Extract*, Dandelion Root Extract*, Beta Glucans, Asian Ginseng Stem and Leaf Extract*, Aloe Vera Whole Plant Extract*, Vitamin K2 (as Menaquinone-7)
Super Mushroom & Adaptogen Mix 225mg
Licorice Root*, Turmeric Root Extract*, Cordyceps Mushroom Mycelia*, Chaga Mushroom Fruiting Body*, Lion's Mane Mushroom Fruiting Body*, Gotu Kola Whole Herb Extract*, Ashwagandha Root Extract*, Rhodiola Root Extract*, Turkey Tail Mushroom Fruiting Body*, Astragalus Root Extract*
Digestive Enzyme Blend & Dairy Free Probiotics 105mg
Digeseb® Enzyme Blend (Amylase, Cellulase, Lactase, Lipase, Protease), Lactobacillus acidophilus, Coenzyme Q10
Ingredients:
Chocho Plant Protein, Sunflower Lecithin*, Natural Flavors, Luo Han Guo (Monk Fruit), Citric Acid, Stevia Leaf Extract (Rebaudioside M)
*Organic Ingredients
"The most delicious nonperishable reset on the market."