Getting your daily dose of veggies can be enjoyable even...craveable
Better than ever! We have elevated our Supergreens Elixir to the next level with 81 vitamins, minerals, and whole food-sourced ingredients to make getting your daily dose of greens easy and incredibly enjoyable. Each ingredient is selected for its nutrient density and bioavailability - from nearly every fruit and vegetable under the sun to healing medicinal mushrooms for immune support and even plant protein - to keep you energized throughout your day. **
333g / About 30 servings
Refer to nutritional facts for ingredients.
California Residents Prop 65
About 30 servings per container
Serving Size: 1.5 TBSP (11g)
Amount per serving
% Daily Value
Vitamin A
(as Beta Carotene, Retinyl Palmitate, Betatene®) 1000mcg
111%
Vitamin C
(as Ascorbic Acid) 300mg
333%
Vitamin D3
(as Cholecalciferol) (VegD3®) 20 (800IU)mcg
100%
Vitamin E
(as d-Alpha Tocopheryl Succinate) 14mg
93%
Vitamin K
(as Phytonadione) 100mcg
83%
Thiamin
(as Thiamine Hydrochloride) 4mg
333%
Niacin NE
(as Niacinamide) 20mg
125%
Vitamin B6
(as Phridoxine Hydrochloride) 8mg
471%
Folate
(as 5-MTHF) 1000mcg DFE
250%
Vitamin B12
(as Methylcobalamin) 100mcg
4167%
Pantothenic acid
(as d-Calcium Pantothenate) 10mg
200%
Iodine
(as Kelp Stipe & Fronds*) 150mcg
100%
Magnesium
(as Magnesium Citrate*, Aquamin®F*) 100mg
24%
Zinc
(as Zinc Citrate) 16.5mg
150%
Selenium
(as L-Selenomethionine) 80mcg
145%
Copper
(as Copper Gluconate) 0.6mg
67%
Manganese
(as Manganese Gluconate) 2.3mg
100%
Chromium
(as Chromium Picolinate) 40mcg
114%
Supplement Blends:
Superfoods – Veggies & Fruit Blend 4.2g
Spirulina*, Apple Fiber*, Apple Pectin Extract, Bitter Orange Extract, Plantago Arenaria Husk*, Broccoli Stem*, Chlorella*, Carrot Root*, Cocoa Seeds Extract*, Beet Root Juice*, Kale Leaf*, Spinach Leaf*, Ginger Root*, Cauliflower Whole Plant*, Artichoke Leaf Extract*, Bilberry Extract, European Elder Berry Extract*, Black Currant Fruit Extract, Dog Rose Fruit Extract, Acaí Fruit Extract*, Grape Seed Extract, Hawthorn Fruit Extract, Cranberry Concentrate*, Bacopa Leaves Extract*
Nutrient Dense Antioxidants, Minerals & Herbs 1.5g
Flax Seed*, Red Algae Lithothamnion sp. Extract (Aquamin® F)*, Alpha Lipoic Acid, Echinacea Purpurea Stem Leaf and Flower*, Green Tea Leaf Extract*, Japanese Knotweed Root Extract, Sage Leaf, Milk Thistle Seed Extract*, Dandelion Root Extract*, Beta Glucans, Asian Ginseng Stem and Leaf Extract*, Aloe Vera Whole Plant Extract*, Vitamin K2 (as Menaquinone-7)
Super Mushroom & Adaptogen Mix 225mg
Licorice Root*, Turmeric Root Extract*, Cordyceps Mushroom Mycelia*, Chaga Mushroom Fruiting Body*, Lion's Mane Mushroom Fruiting Body*, Gotu Kola Whole Herb Extract*, Ashwagandha Root Extract*, Rhodiola Root Extract*, Turkey Tail Mushroom Fruiting Body*, Astragalus Root Extract*
Digestive Enzyme Blend & Dairy Free Probiotics 105mg
Digeseb® Enzyme Blend (Amylase, Cellulase, Lactase, Lipase, Protease), Lactobacillus acidophilus, Coenzyme Q10
Ingredients:
Chocho Plant Protein, Sunflower Lecithin*, Natural Flavors, Luo Han Guo (Monk Fruit) Extract, Citric Acid, Stevia Leaf Extract (Rebaudioside M)
*Organic Ingredients

"I have tried every 'greens' product on the market and this is hands-down my favorite. A convenient and delicious way to dose on veggies every day."
Partner Sales Manager - Google

"I love fueling the start of my day with Kroma's Supergreens Elixir. It's convenient and delicious; I feel completely nourished and energized every day."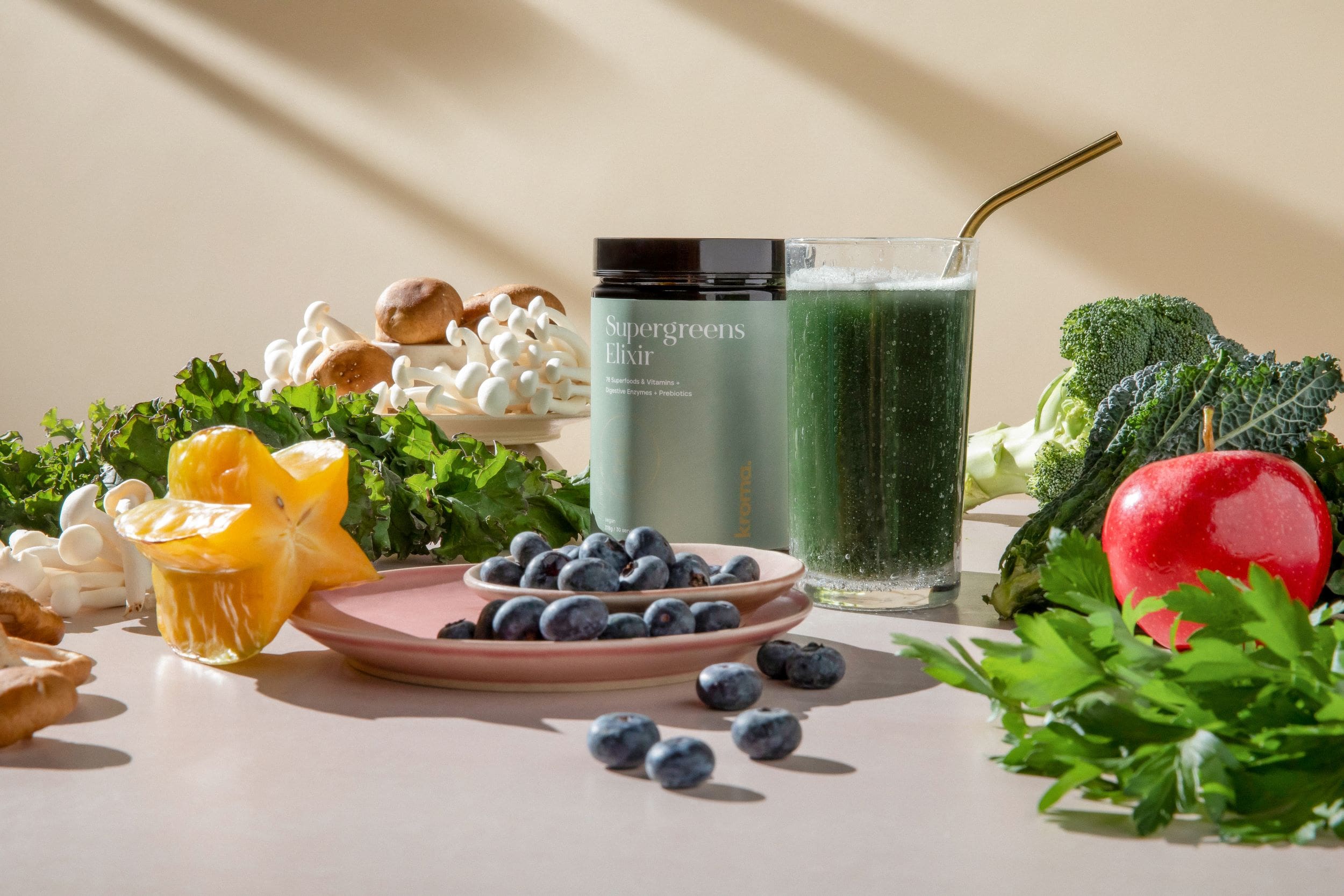 We have tried nearly all the super greens powders out there and we can honestly say, we think ours is hands down the best. Not only because of the quality and combination of ingredients but the flavor and overall balance. We don't believe in no pain no gain when it comes to getting your daily greens which is why we made one that tastes delicious and makes you feel amazing. It even gives a little boost of energy given the high concentration of superfoods along with a touch of green tea.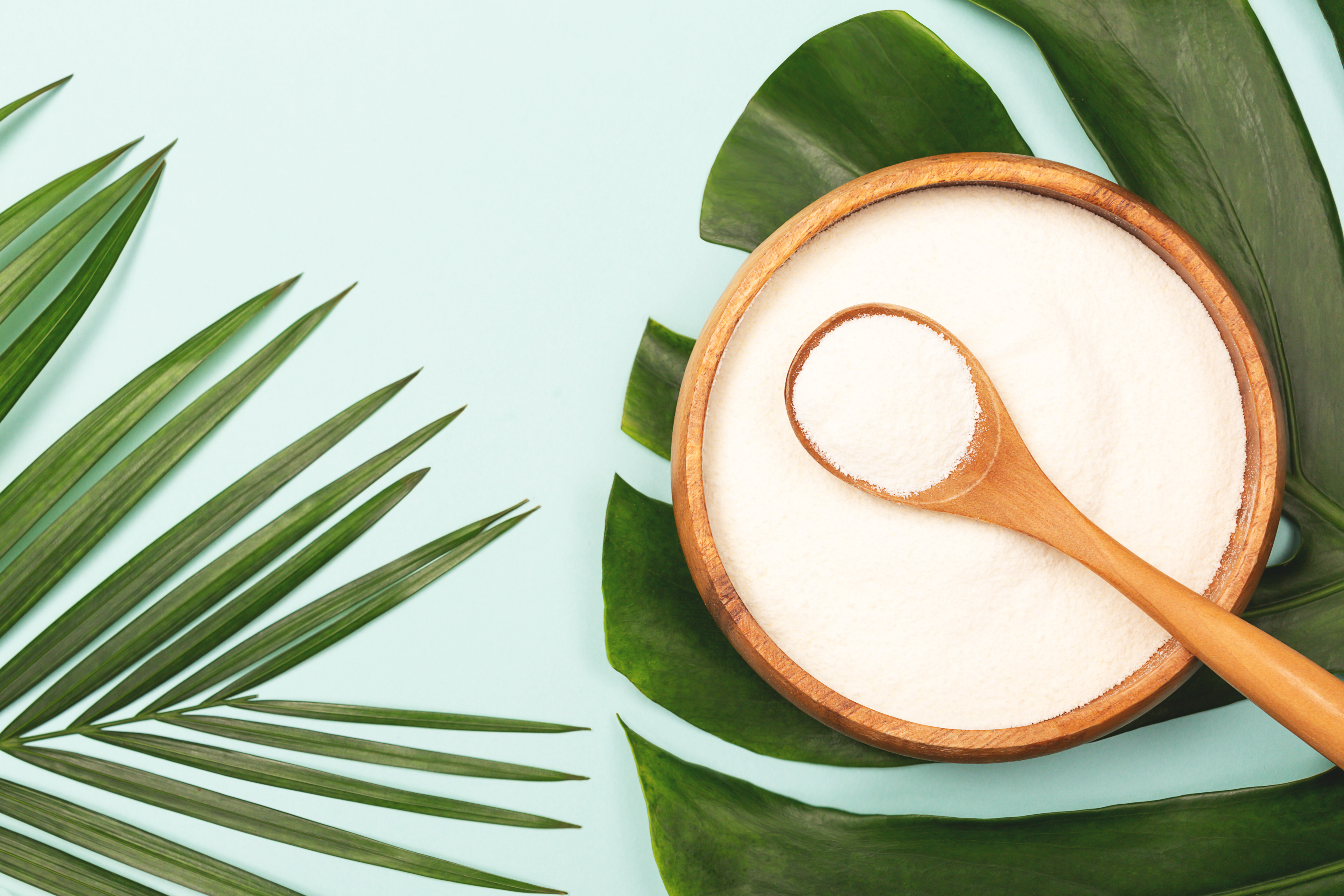 Prebiotics are a source of food for the good bacteria for your gut. Scientific evidence continues to support the positive benefits that prebiotics can have on your microbiome and overall digestive health.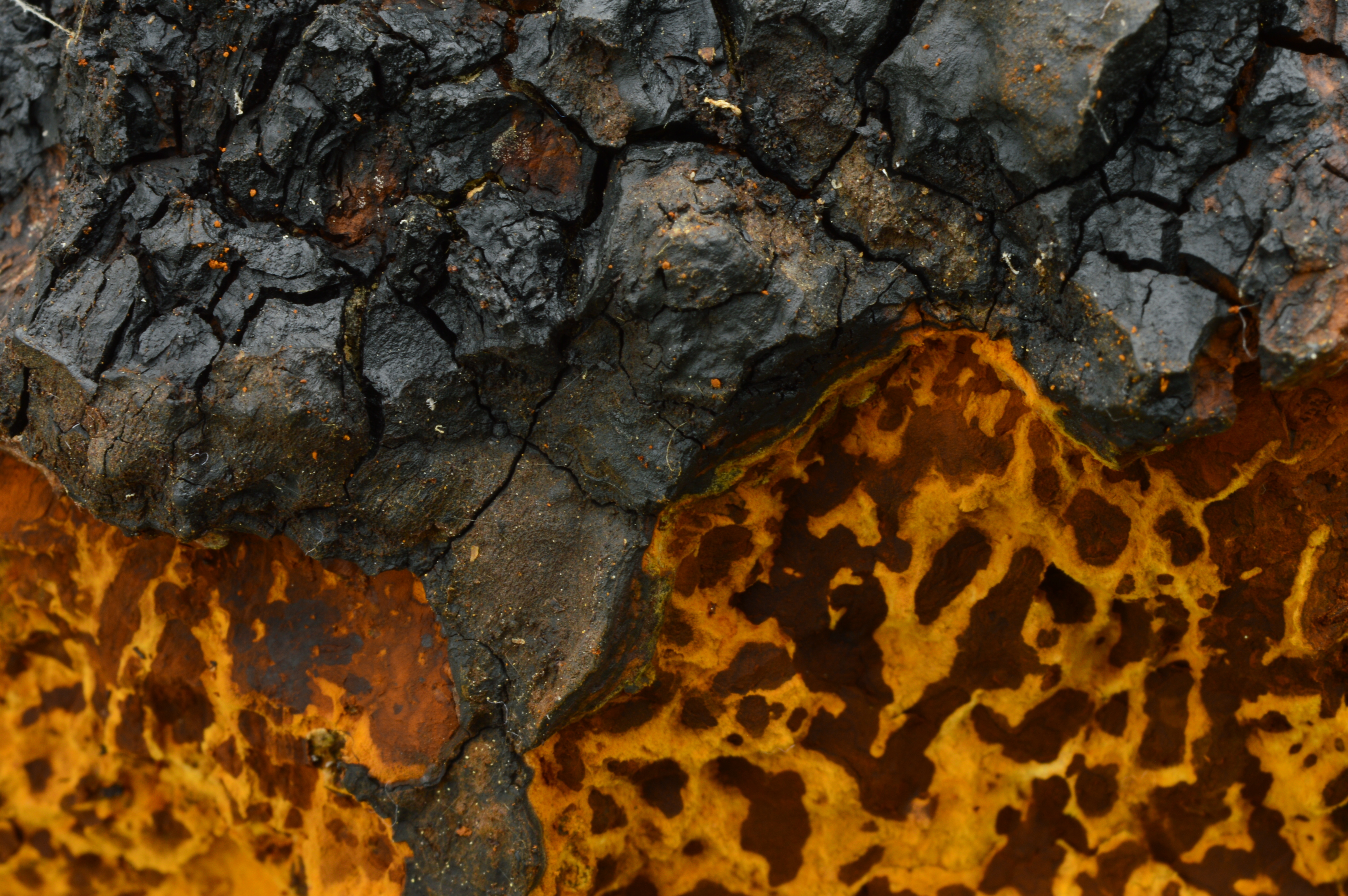 Chaga is a nutrient-dense superfood that contains a variety of antioxidants, vitamins and minerals. Known for its anti-aging properties, this medicinal mushroom supports the immune system and is often used to help with with cellular repair.

Naturally Superior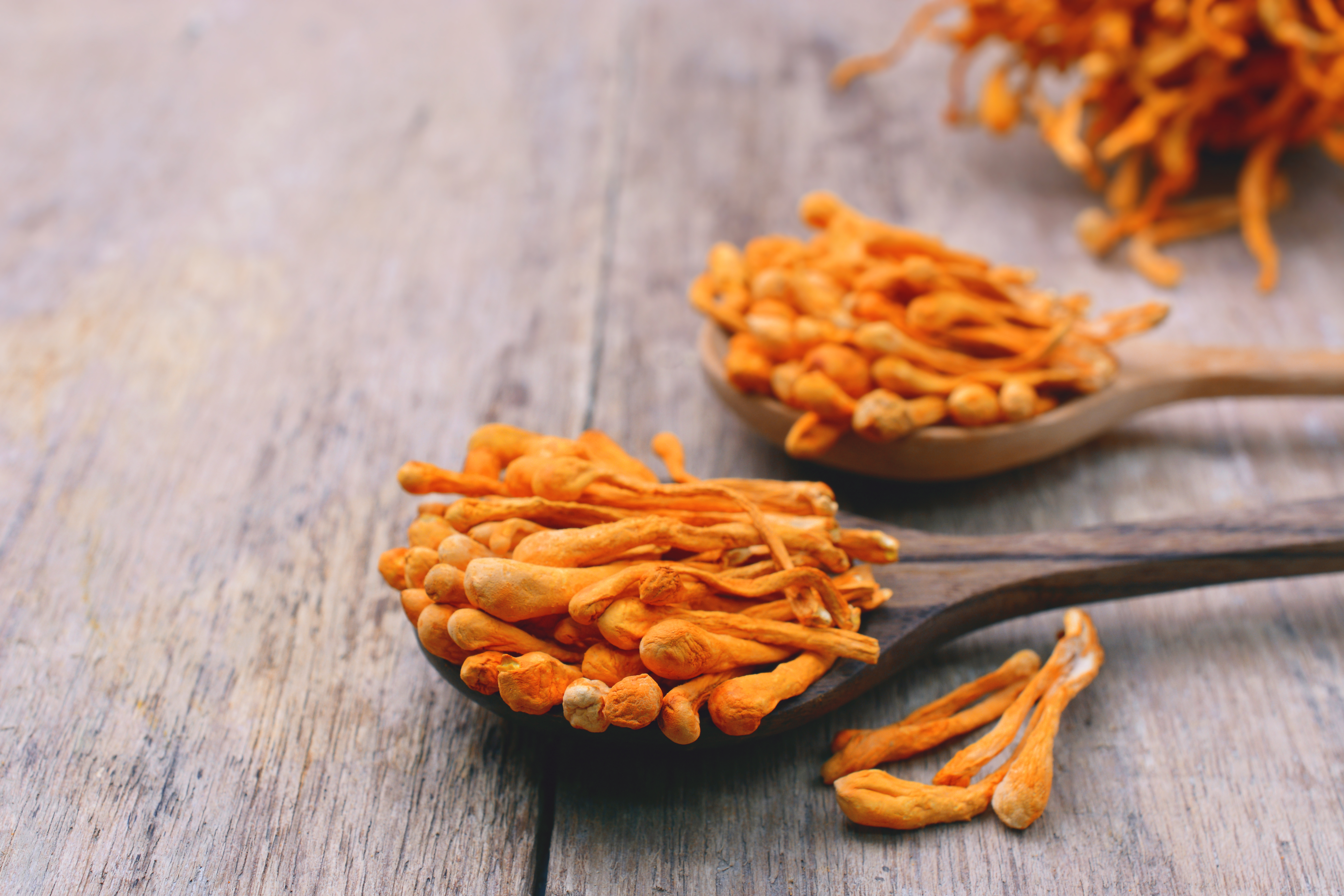 Cordyceps can help increase the body's overall energy reserves, optimizing performance and stamina while fighting free radicals that cause oxidative stress. This medicinal mushroom is also loaded with antioxidants which provide many anti-aging benefits.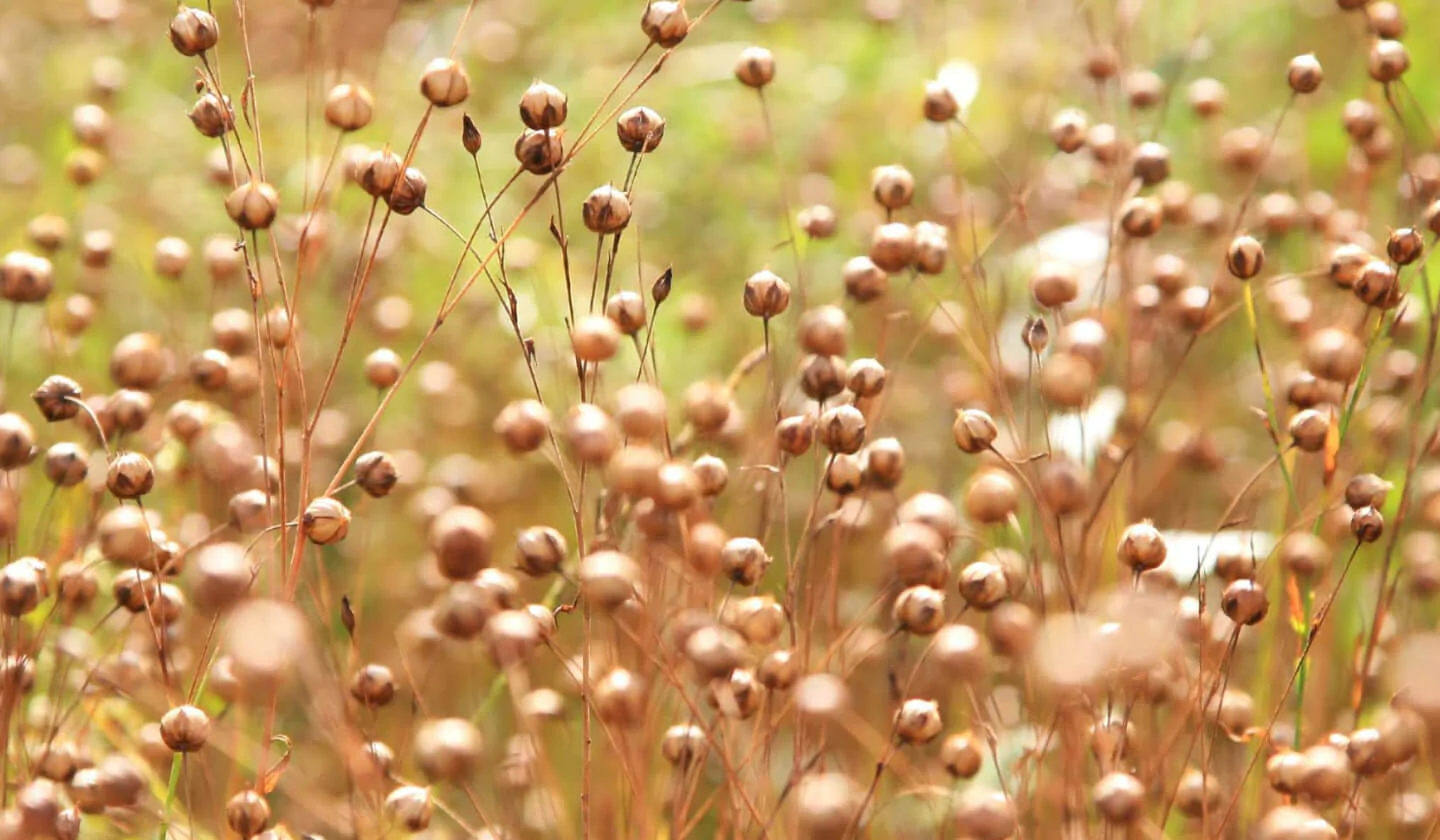 Flax seeds have many health benefits mainly due to their high content of omega-3 fats, lignans, and fiber. The plant-based fatty acids have proven heart health benefits and may also help balance hormones.