Over the last few years, it's hard to scroll social media or listen to a health-focused podcast without seeing the latest influencer boasting their super green detox drink or hearing a mention of super greens. You may be wondering, what are super greens, and what makes them so super?
If this sounds like you, you've come to the right place. Here, we will explain what exactly super greens are and why they are so beneficial. Finally, we will share how you can get your delicious dose of daily greens, Kroma Wellness-style, with our nutrient-dense Supergreens Elixir.
Super greens are a variety of green veggies and herbs that provide your body with high levels of nutrients. When you consume these nutrient-dense foods, you infuse your body with vitamins, minerals, and natural compounds only found in plants, such as carotenoids, glucosinolates, polyphenols, and phytochemicals.
There are many super greens that offer amazing health benefits. Here are a few examples:
Seaweed, such as wakame, kelp, or nori
Algae, such as spirulina or chlorella
Grasses like wheat grass, alfalfa, or barley grass
Leafy greens like spinach, kale, or dandelion greens
Herbs like basil, mint, oregano, and moringa
Cruciferous vegetables such as broccoli, Brussels sprouts, or cauliflower
Super greens can be eaten raw, lightly cooked, or even in powder form. Consuming your greens in different forms can provide you with different nutrients. For example, broccoli and kale may offer more nutrition raw than cooked, although lightly cooking your veggies still offers amazing benefits. On the other hand, spinach, asparagus, and cabbage may offer more vitamins and minerals when they are cooked.
When choosing your green superfoods, opt for USDA-certified organic greens when available. Organic superfoods are free from harmful chemicals like pesticides and fertilizers.
What Are the Benefits of Super Greens?
With so many nutrients packed into super greens, it's no wonder the benefits are plentiful. Adding whole food super greens into your daily routine is a great way to support your overall health.
Here are some benefits you may experience when adding super greens to your day:
Supports Long-Term Wellness
The benefits of super greens can promote long-term wellness. Super greens are loaded with essential nutrients from vitamins, minerals, and proteins that support many functions in the body.
Diets high in vegetables, specifically super greens, are often also high in collagen, calcium, potassium, and vitamin K which can help support healthy blood pressure levels, heart health, eye health, metabolic function, and digestive health.
There is no quick fix to support your body's health and wellness. But, when your body is supported through the foods you eat, there is a higher chance of supporting long-term wellness. It is important to eat well to see the amazing benefits it can have on your overall health, both now and well into the future.
Supports Healthy Digestion
Gut health and digestive health are pillars of overall health. From immune function to metabolic function to mental health, the condition of your gut has far-reaching effects on many other areas of health.
Leafy greens have been shown to have a special fiber known as prebiotics. These fibers feed the healthy bacteria in your gut and promote their growth, helping to support overall microbiome health.
Inulin is a known prebiotic in many greens and is the prebiotic often used in dietary supplements. However, it's always best to get your daily value of essential nutrients from whole food sources when possible.
Super greens are also high in both insoluble and soluble fiber. Prebiotics tend to be soluble fiber, which is easily dissolved in water. On the other hand, insoluble fiber is not dissolvable in water. Both soluble and insoluble fiber have digestive benefits. Soluble fiber helps slow down digestion while insoluble fiber helps speed up digestion. Consuming the right amount of these fibers can help alleviate constipation and diarrhea and support regular bowel movements.
Consuming the right amount of these fibers can help alleviate constipation and diarrhea and support regular bowel movements. However, make sure to drink plenty of water when increasing your fiber consumption, as the two work together to support gut health.
Certain super greens, like seaweed, are known to be high in magnesium. Magnesium is a mineral that may support the gut microbiome — and you can find it in our Calming + Restore Magnesium.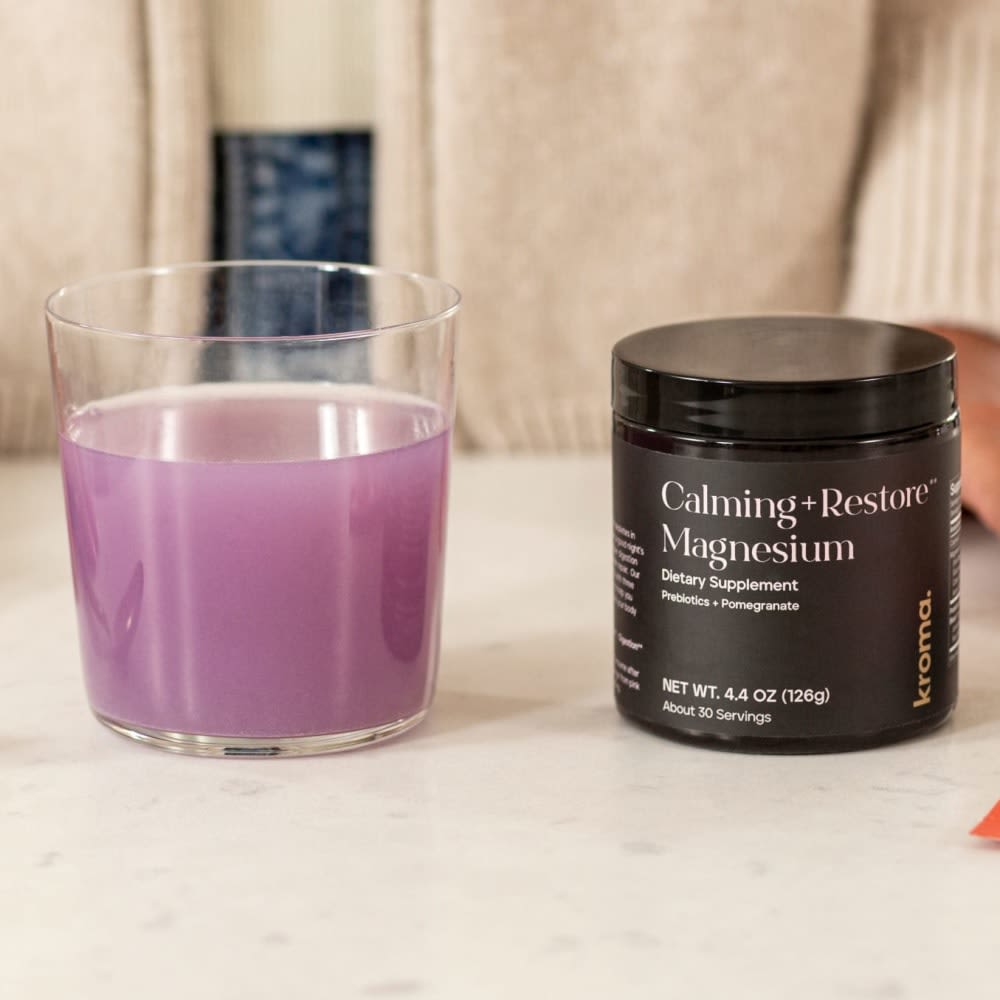 Supports Your Immune System
Your immune system's main job is to fight unwanted pathogens in the body. There are many parts to the immune system, including organs, cells, and proteins. While many of the immune cells are made in the bone marrow, 70 to 80% of immune cells are found in the gut.
As we have just learned, super greens promote a healthy gut, thereby supporting the immune system. Super greens are also high in vitamins that support immune health, like Vitamin C and Vitamin A which are both powerful antioxidants that help support the immune system.
Provides a Sustainable Energy Boost
You may have noticed that after a meal or drink where super greens are the main ingredient, you feel a boost in your energy levels. The chlorophyll found in greens may be the right nutrient to thank.
Chlorophyll is a green compound found in plants that allows them to convert the energy from sunlight into biological energy. When we eat foods high in chlorophyll, it allows us to convert that sunlight into usable energy, as well. Foods high in chlorophyll include green veggies, algae, and seaweed.
How Can You Include Super Greens in Your Daily Routine?
When you hear the term super greens, it often is in reference to a dried powder that is green in color, packed with super greens, and may have a grassy taste. Super green powders are an incredible way to include a few serving sizes of super greens into your daily routine.
While green powders often have an assortment of different greens blends, superfood powders may also include other highly nutritious superfoods. To get the most out of green powders, they should be non-GMO and organic.
Here are whole food ingredients, besides the super greens, often found in super green powders:
Root vegetables like carrots, sweet potatoes, and beets
Mushrooms like chaga and cordyceps
Fruits like pomegranate, acai, and black currant
Adaptogenic herbs like turmeric, Asian ginseng, and ashwagandha
Digestive enzymes in the form of prebiotics or a probiotic blend
Plant-based protein
Natural sweeteners
There are two main processes to make super greens powders. First, the super greens and complementary ingredients are dried. Then they are ground into a fine powder. Another option is to juice the ingredients and then dehydrate the juice to make a powder.
These powders are an easy way to conveniently boost your nutrition. They can be added to water, fresh juice, or even a smoothie to increase your daily dose of greens. Plus you can add a spoonful to other foods like soup, salad dressing, pasta sauce or marinades.
The Kroma Wellness Supergreens Elixir is loaded with over 81 vitamins and minerals to help support your immunity, digestion, energy, and overall health. Both simple and convenient, it incorporates super green veggies like spirulina, kale, broccoli, cauliflower, kelp, and spinach alongside medicinal mushrooms, antioxidant-rich fruits, and powerful herbs and spices. Our Supergreens Elixir is gluten-free and vegan, and there are no added sugars.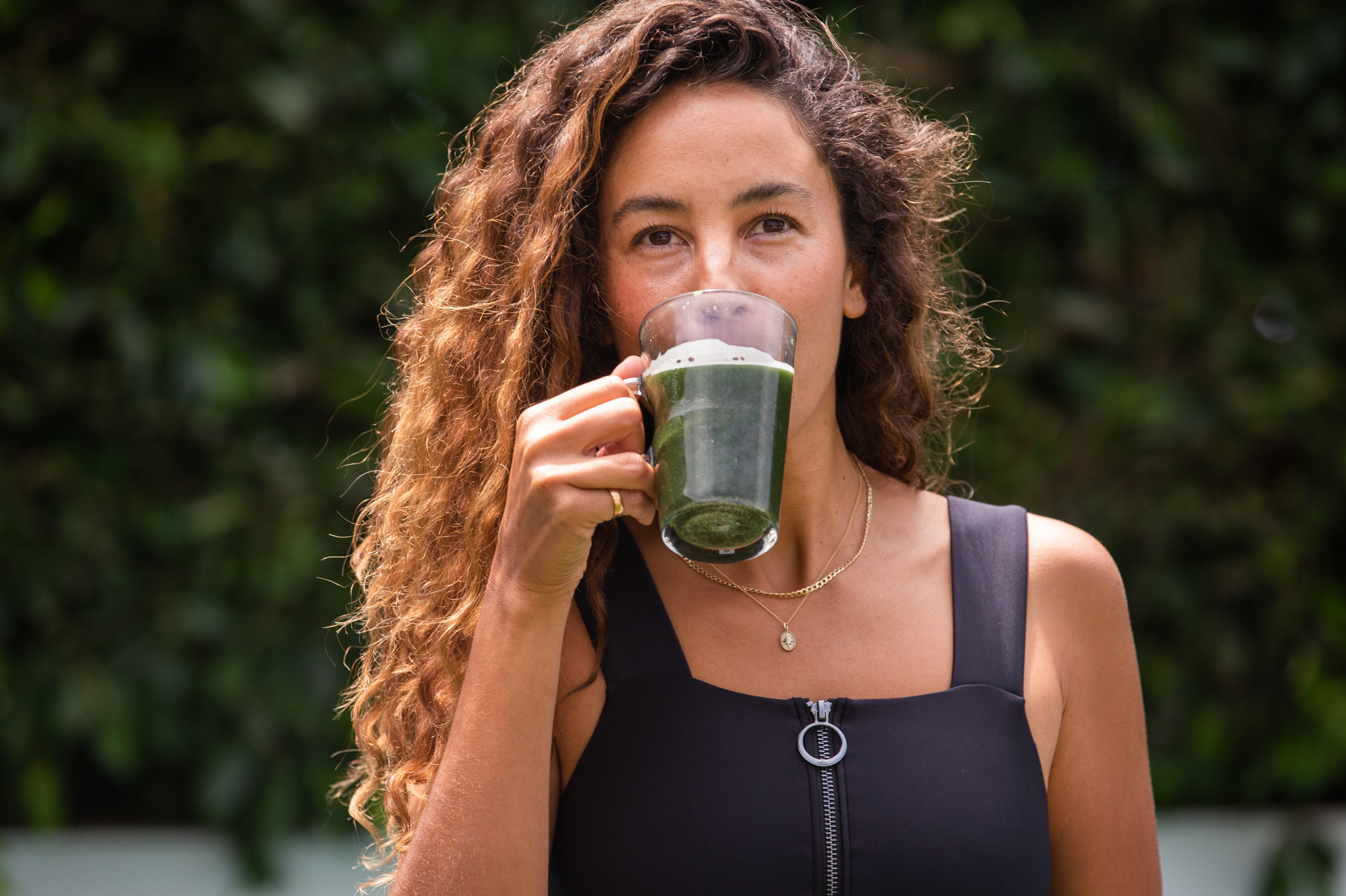 Super greens are a subsection of vegetables that include leafy greens, cruciferous vegetables, grasses, algae, and seaweed. They are called super because of the many benefits they provide, from long-term wellness to healthy digestion to immune system support.
If you are looking to incorporate super greens into your diet, try our Supergreens Elixir. Not only does it have many super greens, but it also has other known superfoods like root vegetables, mushrooms, fruits, herbs, plant protein, and digestive enzymes. Simply adding a scoop of this incredible powder to 8-12 ounces of cold water can give you many of the nutrients you need to support you throughout the day.

There are many ways to support your overall health and wellness, but your diet plays a major role. If you want to freshen up your diet, try our 5-Day Reset to help re-establish healthy habits.