How They Affect One Another
The average American consumes 71.14 grams of sugar every day, even when the American Heart Association recommends just 25-36 grams for people per day. Yeah, scary. Everyone loves a good sweet treat before bed, but high consumption of processed sugar before sleep can lead to heart disease, diabetes, obesity, high blood pressure, and even poor sleep quality.
Kroma's products use organic, natural sweeteners that are sleep-safe but still delicious, so you can satiate your sweet tooth without sacrificing a good night's sleep.
Read on to learn more startling facts about the relationship between processed sugar and sleep.
How Does Sugar Affect Sleep?
Sugar affects sleep in many different ways, but here are three especially harmful ways in which sugar can negatively alter the quality and timing of our nighttime ritual.
1. Sugar before sleep can lead to shorter and lighter sleep duration and more nighttime awakenings
A study conducted in the Journal of Clinical Sleep Medicine concluded that sugar before sleep leads to less restful sleep. High blood sugar levels directly affect the nervous system, increasing cortisol and adrenaline. This ultimately makes it more difficult to go to sleep and stay asleep.
2. Sugar before sleep can increase cravings and appetite
Dr. Michael Breus, Clinical Psychologist and Sleep Medicine expert explains, "Eating sugary foods—and the additional body fat that typically comes from a high-sugar diet—reduces the effectiveness of hunger-suppressing and metabolism-regulating hormones, including leptin and insulin." Our sweet tooth can lead to more sweet teeth! Without the production of leptin and insulin, strong cravings lead to late-night snacking and late-night snacking leads to poor sleep. Poor sleep then leads to more sugar cravings which leave us in an endless cycle of poor consumption habits and disruptive sleep patterns.
3. Sugar before sleep can cause inflammation.
Dr. Hee-Kyung Hong from Northwestern University conducted a study that concluded inflammation can lead to circadian sleep disorders. Inflammation affects the brain and sleep-wake cycle. The study supports that excessive sugar before sleep is contributing to overall poor sleep.
What Does It Mean When Sugar Makes You Sleepy?
Perhaps your experience has been different than the studies above and you're thinking, "Well then, why do I get sleepy when I eat sugar?" It's possible that after a handful of treats before bed, you're overcome with feeling sleepy after eating processed sugar.
Registered dietitian Julia Zumpano, RD, explains if you don't have enough insulin or if you have a rise in blood sugar, it can affect your fatigue level. Sugar crashes follow sugar highs. The crashing happens when the pancreas releases more insulin to regulate the high amounts of blood sugar, and while that happens, blood sugar levels drop even more. As this process continues, it increases the possibility of developing insulin resistance, also known as Type 2 Diabetes.
Alternatives to Processed Sugar for Better Sleep with Kroma Wellness
From the looks of it, processed sugar and sleep have a pretty toxic relationship. It's time to break up, move on, and find a better fit. Kroma Wellness incorporates three alternatives to processed sugars to avoid the challenges that cause sleep disruptions.
Monk fruit, also known as Luo Han Guo, provides a sweet flavor from antioxidants in the fruit, called mogrosides. Monk fruit extract does not contain glucose or fructose, which makes it a popular sweetener to avoid blood sugar regulation issues.
Our Calming + Restore Magnesium After Hours Elixir combines monk fruit, prebiotics, and three natural types of magnesium and L-theanine. We carefully chose these three ingredients to assist you in reaching a deeper state of relaxation and guide the restoration of your body throughout the sleep cycle.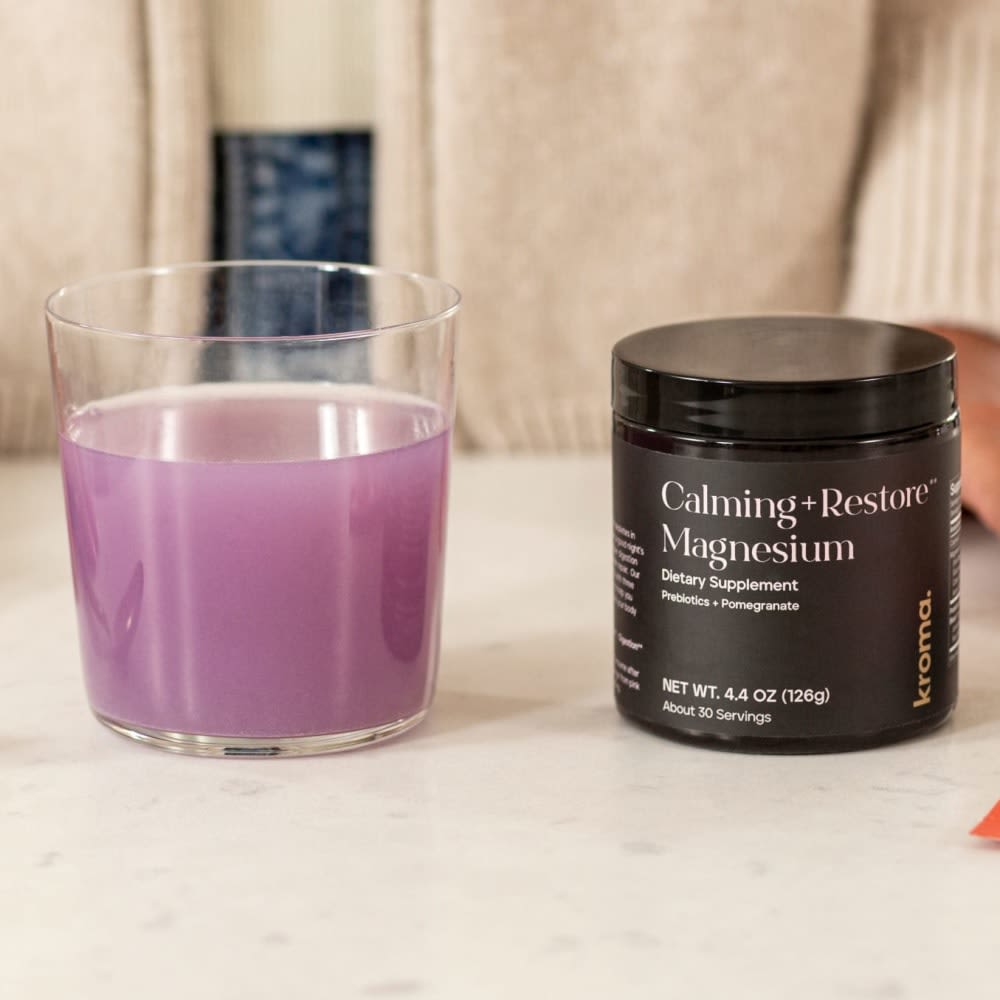 Sometimes you really can't help reaching for a sweet snack. Organic maple sugar is a completely natural and unprocessed sweetener. It's free of any unhealthy additives, and it's a good source of minerals like magnesium and antioxidants.
Satisfy the sugar cravings, guilt-free, with something like OMG Cookie Butter. Using maple sugar, lucuma and monk fruit, OMG Cookie Butter is OMG too good to be true. It can even be used to make delicious, healthy chocolate chip cookies!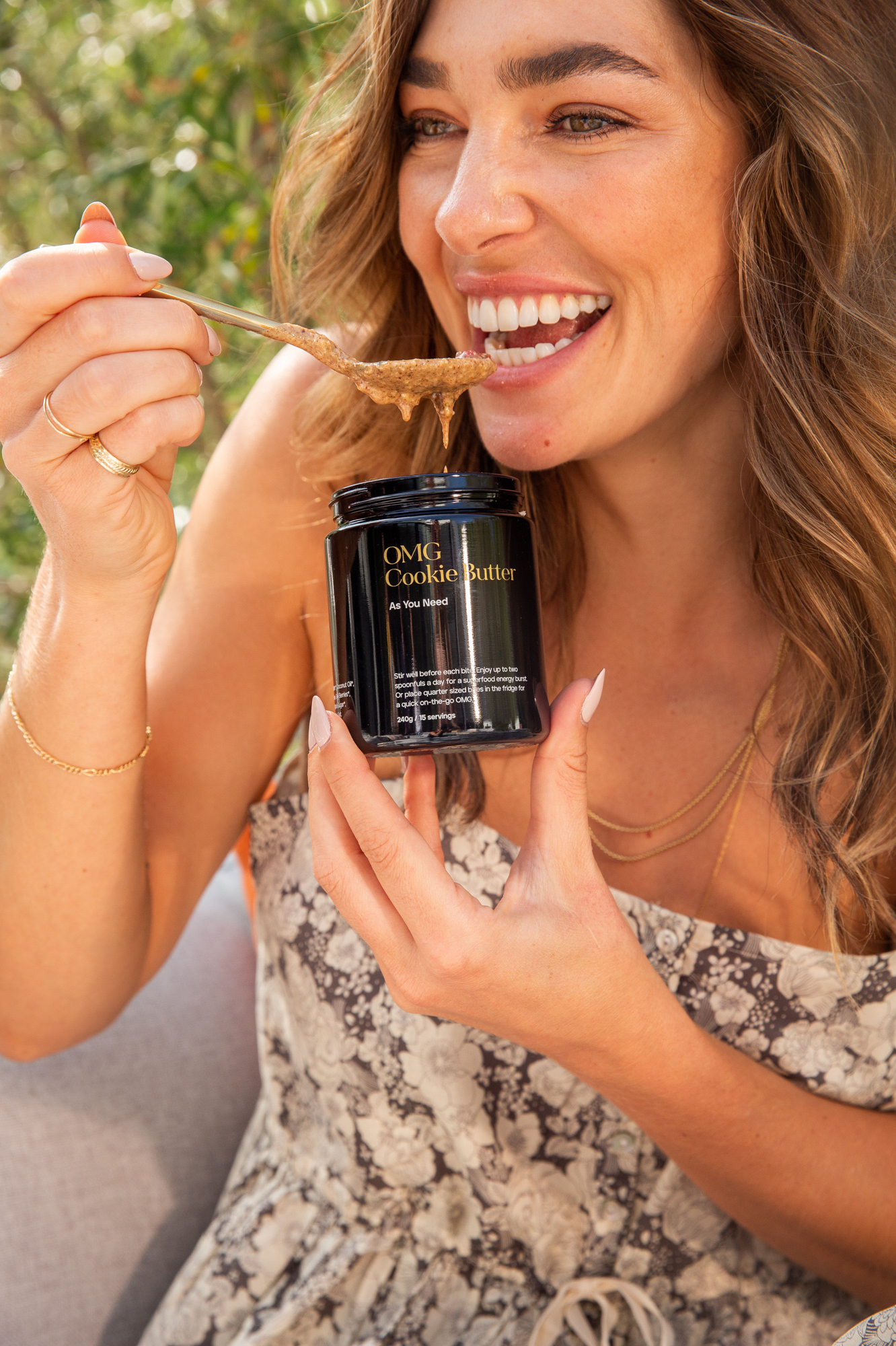 Strengthen your relationship with sugar and sleep with Kroma Wellness. These small swaps to your processed sugar intakes can be the difference between a restful night's sleep and a don't-mess-with-me-this-morning kind of day.
The Kroma 5-Day Reset is the perfect way to transform your diet, support your body and build good habits. It includes 5 days' worth of superfood meals and beverages filled with satiating, delicious, good-for-you ingredients like natural sweeteners, medicinal mushrooms, powerful spices, plant protein and more! Convenient and easy to follow, the 5-Day Reset is the simplest way to Reset your well-being without depriving yourself of flavor and essential vitamins and nutrients.